Morris Dancing in Devon
WWINKLEIGH MORRIS
Contacts
SQUIRE: Angela Haines 01837 83219
BAGMAN: Anne Bendix 01805 603599
FOREMAN: Colin Andrews 01363 877216 Email : morris
Formed in 1990, we are a mixed side of about twenty dancers and musicians. We perform a variety of dances from Cotswold and Border Morris traditions, as well as some dances of our own. From May until September we can be seen on a Tuesday evening around the villages in the heart of Devon, where you are welcome to join us afterwards in a friendly hostelry for further music, singing and dancing. We have danced at several festivals in this country and usually attend at least one Morris weekend every summer as guests of another group. Every two years we organise our own Weekend of Dance (next in 2005) at which we welcome friends old and new from all over the country. We have visited Eire and France and are always keen to establish new contacts elsewhere. We are a member of the Morris Federation.
You are welcome to share our fun whether as a spectator or by becoming a dancer or musician!
Winkleigh Morris at Dartmoor Folk Festival 2003 - there's more of us behind the camera in the beer tent !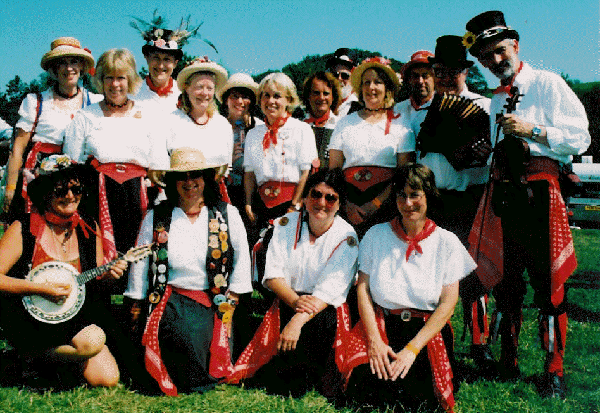 (more photos will be available soon on-line)
Return to home page ..................................................................................................................... More Morris<---
THE WINKLEIGH MORRIS COLLECTION
Original & adapted Border & Cotswold Morris from the foreman of Winkleigh Morris. A4 comb-bound format. Full instructions and music. Also, mummer's play based on the local Franken's Night legend.