Folk Activities of Colin & Sonja Andrews
emails: Colin & Sonja
Colin and Sonja Andrews have been actively involved in folk music, dance and song for many years. Originally from Sussex, they have been based in mid-Devon since 1973.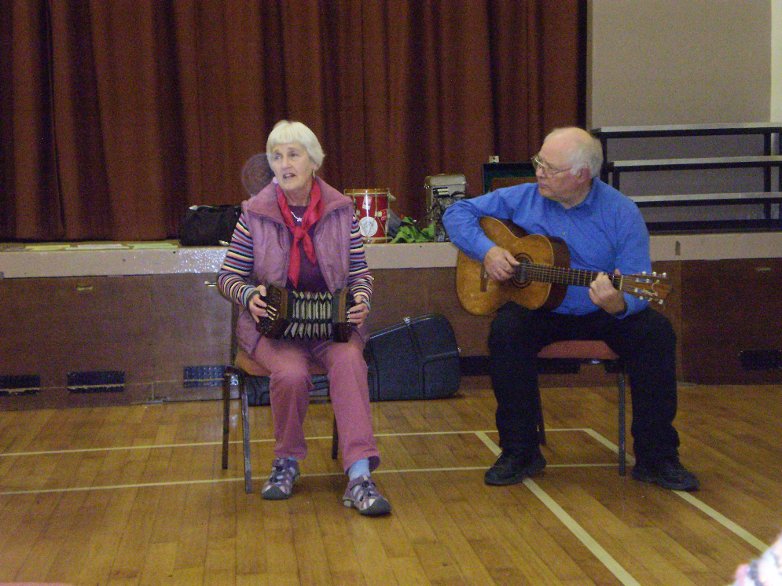 There's a potted biography if you're interested - or skip this bit if you wish !
Sonja sings both unaccompanied (she's got a lovely voice !), and with accompaniment on guitar or duet (crane) concertina. She is an original member of Home Brew Country Dance Band, with whom she now plays guitar, and, formerly, spoons and tambourine. Sonja sings with the Crediton West Gallery Choir, and with local church choirs
Colin plays melodeon, anglo & duet concertinas, guitar, banjo, whistle and pipe & tabor, and also sings unaccompanied. He is foreman and founder member of Winkleigh Morris, and a regular musician (but less regular dancer !) with the Exeter Morris Men. He is an original member and regular caller with Home Brew Country Dance Band and plays with the Winkeilidh Band. He also calls and plays with other bands in the West of England. He is the author of three books of folk dances, one of morris dances and one on songs, with accompanying CD, of Sussex Shepherd, Michael Blann. Colin's first novel, A Matter of Degree, came out in 2011 and his second novel, Shattered Pretensions, in 2015. He has also published a book of poems and short stories Who Gives A Hoot. The sequel to A Matter of Degree, One Degree Over, was published in 2018
Colin and Sonja perform unaccompanied songs in two-part harmony, as well as instrumentals and songs with various musical accompaniments . They are available as a duo or individually for folk clubs, harvest suppers, and other social occasions where live performance of traditional folk music would be appreciated. They have recorded a CD of Christmas carols and seasonal songs, 'Season's Greetings', and Colin has also produced two CDs, 'Gleanings', with 16 songs and 3 instrumental tracks, and, in 2018, 'Ever Remembered', with 13 songs and 3 instrumentals. Three CDs of songs sung by Sonja ('Songs My Granny Sings') have just been produced.
Return to home page Occasional blogs